Download our free guide and learn how to make your marketing goals S.M.A.R.T.
Proper goal setting is much more than "increase revenue" or "gain more prospects". While these are good starting points of what you resolve to do, they don't provide you with a road map, or a vision of what accomplishming a specific goal looks like. A S.M.A.R.T goal will provide you with the structure, accountability and trajectory needed to complete even the most ambitious of goals. Learn how to start setting S.M.A.R.T goals with this handy guide.
Download this helpful guide, and you will: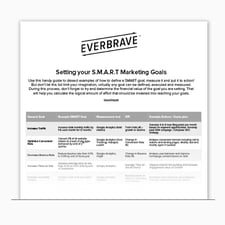 Review 12 sample goals that you can modfiy for your own marketing game plan
Understand what a S.M.A.R.T marketing goal is, and learn how to structure them.
Gain insight into the various kinds of goals you can make to measure your marketing efforts.
Learn how to calculate the logical amount of effort that should be invested into reaching your goals


Complete the form for an immediate download of the Setting Your S.M.A.R.T Marketing Goals Guide!